Sammy Gyamfi should stop misleading our generation Politically Real Richkid Gh blasts over his tweet
Opposition leader
National Democratic Congress
(NDC),
Sammy Gyamfi
used murdered African-American
George Flyod
to score political points.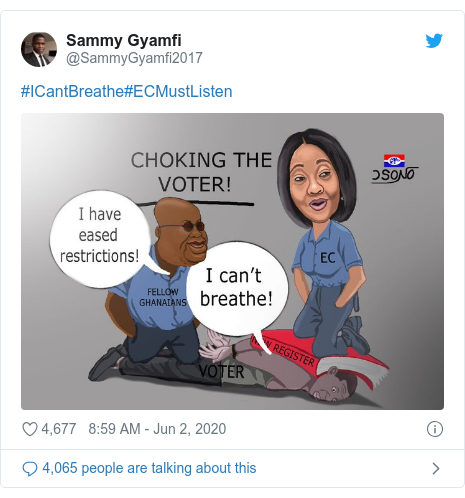 Real Richkid Gh
writes;
I am not a Political Leader, follower nor a party member but a blogger, Social Media Activists, Photographer, Website and Graphic Designer,Director and a Multimedia Personnel.
This is just an opinion that I am expressing as a concern citizen of Ghana. As my right I am entitle to do this too.
What Mr. Sammy Gyamfi posted on Facebook can really put the country's Tourism ratings at risks.
Ghana Now is rated as one of the safest, most caring and lovely place in the world. The sadincident occurred in America, a country that believes in us on tourism affairs. So as other countries who are weeping brutality against this murder.
It can also put our trading affairs and sector into danger. All countries globally hands are on deck fighting Racism in support of Black power in other countries. We trade with these countries and this image and tweet can feed them as a Joke, and that Ghana and it's citizens are in support of the Racism acts to which our citizens abroad are victims too. Now can our products exported be bought?
If this post is not taken down from twitter, Gaymfi is a youth and part of our generation who are on the seats to Leadership and this makes as a weak youths to part in this act.
I am not the only one affected, thinking or mindful about this post but other concerned citizens including Musicians like Sarkodie, Joey b etc....
Sammy Gyamfi if you are reading this, please think about Ghana, think about our generation now and unborn ones including your own children lives and please minimize the usage of certain footages, words and contents that may not put our generation and the nation at risk.
Thank you!
Please kindly follow to this account here for more accurate news, Entertainment, Music and more.
Add me on all Social Media as; @RealRichkidGh as we discuss more delegate issues concerning this nation, Our celebrities, latest songs and more..